Gold Prices Slip Amid Strong Dollar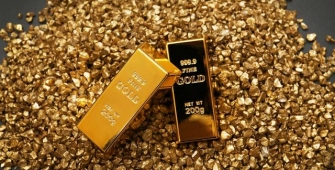 Gold prices eased slightly on Monday, pulled down by a strong dollar and Asian equities. 
Spot gold fell 0.1 percent at $1,303.42 per ounce. It gained almost 0.9 percent in the session earlier on lower-than-expected U.S. inflation data. 
U.S. gold futures for December delivery increased 0.1 percent at $1,305.70 an ounce. 
The dollar index, which measures the U.S. currency versus a basket of peers, stood steady at 93.101. Asian shares climbed to fresh peaks on Monday following a strong lead from Wall Street. 
The U.S. economy continues to be strong and the labour market's strength calls for gradual hikes in rates despite subdued inflation, according to Federal Reserve Chair Janet Yellen. 
Wages and inflation in the euro zone will eventually rise but more slowly than initially expected, requiring continued patience from policymakers, European Central Bank President Mario Draghi said. 
Senior Trump administration officials recently said that the United States was committed to remaining part of the Iran nuclear accord as of the moment, despite President Donald Trump's criticisms of the deal and warnings that his country might pull out. 
Hedge funds and money managers trimmed their net long position in COMEX gold contracts for the fourth consecutive week in the week to Oct. 10, according to data from the U.S. Commodity Futures Trading Commission.