Weak data on the euro area is weighing on the euro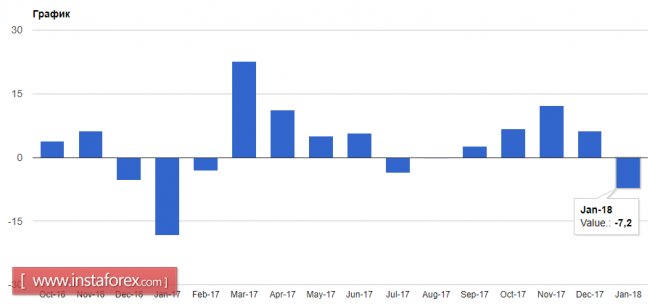 Weak data, including the preliminary, in the production and services sectors of the euro area put pressure on the European currency in the first half of the day. However, there was no significant sale of risky assets. This again indicates that most traders will focus on the Federal Reserve's protocols today. 
The British pound collapsed against the US dollar after the release of a weak report on the UK labor market, where there was a significant surge in the number of unemployed. 
In Germany, which is the flagship of the European economy, the growth rates of the manufacturing and services sectors have slowed. According to IHS Markit, the purchasing managers' index for the German services sector in February 2018 dropped to 55.3 points versus 57.3 points in January with economists expecting the February value to be at 57.0 points. The PMI for the manufacturing sector fell to 60.3 points from 61.1 points in January. 
The preliminary index of supply managers for the manufacturing sector in France also fell in February, reaching 56.1 points compared to 58.4 points in January. Economists had expected a less significant decline, to a level of 58.1 points. 
The preliminary index of supply managers for the services sector in France dropped to 57.9 points in February against 59.2 points in January this year. Economists had expected the index to remain unchanged at 59.2 points. 
As a result business activity in general for the euro area slowed in February. 
According to the report of IHS Markit, the composite index of supply managers of the eurozone in February fell to 57.5 points from 58.8 points in January. It is important to note that a value of above 50 in the index indicates an increase in activity. Economists also expected the decline but only to 58.5 points. 
The technical picture in the EURUSD pair remained unchanged compared with the morning forecast. In the event of a decline in the euro after the publication of the Fed's protocols, opening long positions is best after the major support levels of 1.2240 and 1.2200 have been updated. 
The British pound, as noted above, fell sharply against the US dollar after it became known that unemployment in the UK in the fourth quarter of 2017 increased. 
According to the report of the National Bureau of Statistics, the number of unemployed in the UK increased by 46,000 from October to December 2017. The unemployment rate was at 4.4% while economists expected unemployment to remain unchanged at 4.3%.