Benchmark U.S. Yield Remain on Upward Path even as Stocks Plunge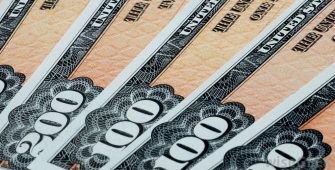 Treasury Yields rebounded on Thursday as edgy investors drove down stock benchmarks significantly lower in another dramatic and volatile session on Wall Street driven by inflation concerns, but the benchmark 10-year note clung to an upward movement. 
The yield for the 10-year Treasury note stood at 2.848 percent, rising 0.8 percent, after recording an intraday high of 2.875 percent. The two-year note yield fell 0.4 basis point to 2.130 percent, while the 30-year bond rate edged up 1.8 basis point to 3.134 percent. 
After a short-lived flight to safe haven assets drove yields lower on Monday, with the Dow Jones Industrial Average losing over 800 points at its lowest, government paper saw a resumption in selling, pushing yields up again. 
A rally in bonds helped to reverse the selloff after the Bank of England said that strong inflation could accelerate the schedule of rate hikes, putting pressure on British government bonds. BoE's Monetary Policy Committee voted unanimously to retain interest rates at 0.5 percent. The central bank has received criticism from analysts arguing that the country's borrowing rates are too low as the weak pound has stoked inflationary pressures. 
The 10-year UK bond yield surged 7.9 basis points to 1.617 percent, according to Tradeweb. Meanwhile, the sterling rallied to $1.3914, rising from $1.3882 before the BoE report.