Tech Stocks' Rebound Sends Wall Street to Close at Records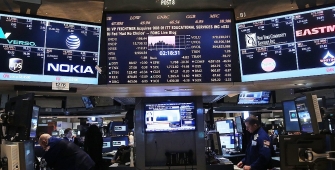 The Dow and the S&P 500 notched fresh record highs as technology shares regained footing following two days of selloff. But investors are now setting their sights on an expected Federal Reserve interest rate hike after the central bank's two-day June policy meeting. 
Tech shares were hit by sell offs on Monday, extending from a downturn at the end of last week and dragging broader index particularly the tech-heavy Nasdaq. On Tuesday, the S&P 500 tech sector regained footing and rebounded by 0.9 percent after its biggest two-day losing streak in almost a year. Microsoft and Facebook led the index higher. 
The Dow Jones Industrial Average advanced 92.80 points or 0.4 percent to end at 21, 328.47 after hitting a historic intraday peak of 21, 332.77. Meanwhile, the S&P 500 index advanced by 10.96 points to end at 2,440.35, also entering record territory, bolstered by materials and IT sectors. 
The Nasdaq Composite Index advanced 44.90 points or 0.7 percent to close at 6,220.37. 
Analysts said that with regards to the Fed meeting, investors had already priced in a rate-hike and is seen to have little impact to the market. Investors are also confident with the concept that the Fed will continue to be cautious to ensure that the higher rates will not slow down growth.