The growth potential of the pound is limited
The British pound declined against the US dollar following the release of a report, which indicated that the UK government in October this year was forced to borrow more money compared to the same period last year. 
This is directly related to the acceleration of inflation, which led to an increase in the costs of debt servicing. 
According to the official report of the National Bureau of Statistics, the net borrowing of the UK public sector in October 2017 had amounted to 8 billion British pounds, which is 0.5 billion pounds higher than it was in October of last year. Economists had expected that borrowings would amount to £7.5 billion.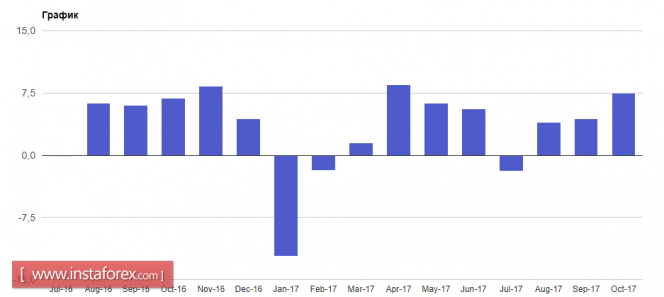 In case the GBPUSD pair drops to catch hold of the resistance at 1.3260, pressure on the British pound would only increase in the near future, which will lead to the renewal of 1.3180 and 1.3140. 
Data on the balance of foreign trade will positively affect the overall GDP of Switzerland for the 3rd quarter of this year. As noted in the report, the surplus increased due to the weakening of the Swiss franc in October this year, which had a positive impact on the foreign trade balance.
Therefore, the positive balance of foreign trade in October 2017 amounted to 2.4 billion francs, while exports grew by 2.3% compared to the same period in 2016. 
The Australian dollar rose against the US dollar following a speech by the Governor of the Reserve Bank of Australia. Let me remind you that the morning minutes of the RBA, which were prepared after the last meeting, had a negative impact on the Australian dollar. 
Philip Lowe said that at the moment there is no special reason to raise interest rates in the near future, and it will be more appropriate to keep rates low for quite a long time. 
The growth of the Australian dollar could also occur due to the fact that some major players were afraid of hints from the RBA's governor about the possibility of further lowering of rates. However, Lowe said that in case of further improvement in the economic situation, the increase in rates is more likely than its decrease. According to the head of the RBA, in the economy of Australia there are unused capacities, while restrained growth of wages continues to subdue inflation. 
As for the technical picture of the AUDUSD pair, after going beyond the large support level of 0.7630, the pressure on the Australian dollar increased, which led to the renewal of new large levels of 0.7530 with the formation of the forecast for the exit at 0.7500, where a significant profit taking on short positions will occur.
*The market analysis posted here is meant to increase your awareness, but not to give instructions to make a trade.