Yellen to Retire from Fed Board after Powell is Sworn In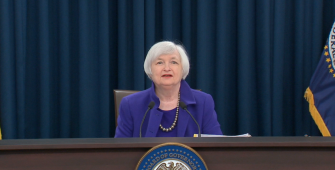 Federal Reserve Chair Janet Yellen said that she will step down from her seat on the Fed's Board of Governors once Jerome Powell is confirmed and takes oath as the new chairman of the U.S. central bank. 
Yellen, in a letter to President Donald Trump, also pledged to do everything in her capacity to ensure a seamless transition of power to Powell, who was nominated by Trump to succeed her earlier this November. 
It is widely anticipated that Powell will take her place when Yellen's term ends in February. Despite Yellen being able to stay on as Fed governor until 2024 given that board terms run for 14 years, it has been a tradition for departing Fed leaders to depart the board and at the same time as a courtesy to give the next chairman clear leadership of the FOMC. 
Yellen has been credited with stabilizing the economy and steering the monetary policy from the defensive mode that came after the 2007-2009 recession and financial crisis. She served as the Fed vice chair before being nominated as Fed chief in 2014 by Democratic President Barack Obama and was the first woman to head the U.S. central bank.